CAPTURE LEADS AS EASY AS…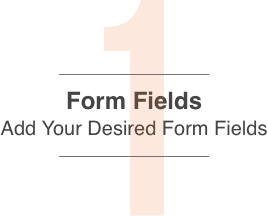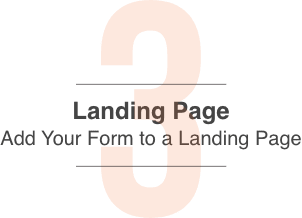 INTUITIVE LEAD GENERATION TOOLS
Inbound lead generation is crucial to many different types of businesses and having the right lead capture systems can make all the difference when it comes to gathering leads. Our form builder tool gives you the flexibility you need to create modern, customized, high converting landing pages forms in a matter of minutes.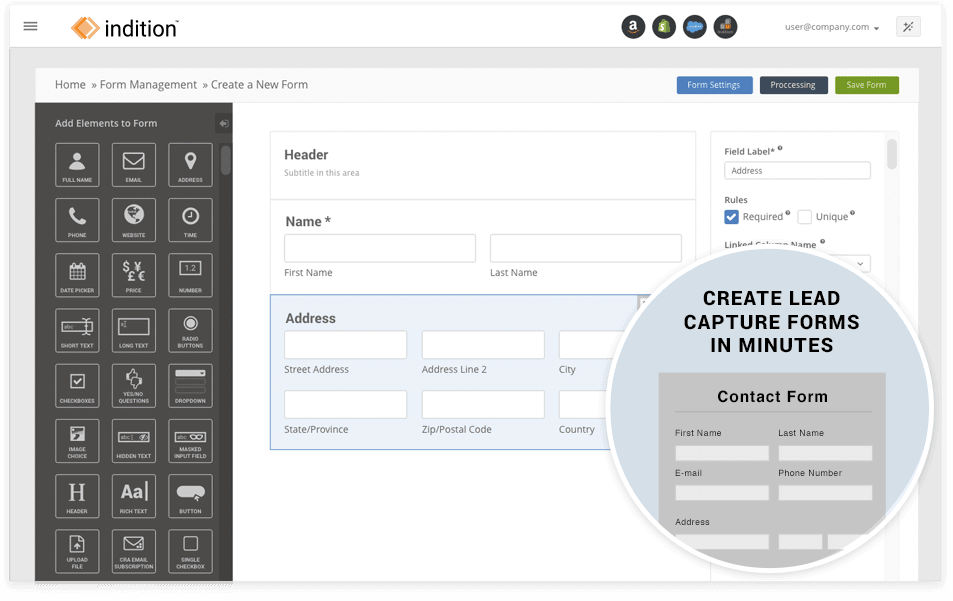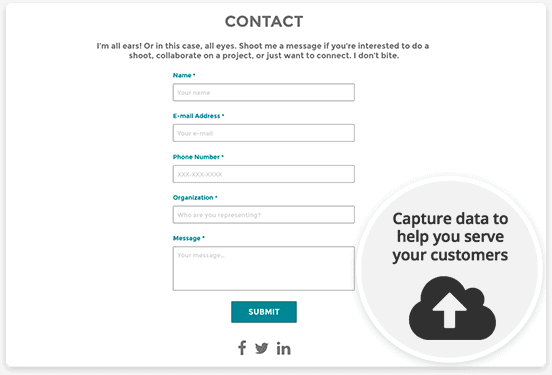 Improve Inbound Conversions
Improving lead conversions should always be a priority for sales and marketing teams and the best way to do that is by creating a lead capture form that asks the right questions and collects the right data to sufficiently move your lead down the sales funnel without any friction. Create personalized forms that will help nurture lead relationships from the very beginning.
Start My Free Trial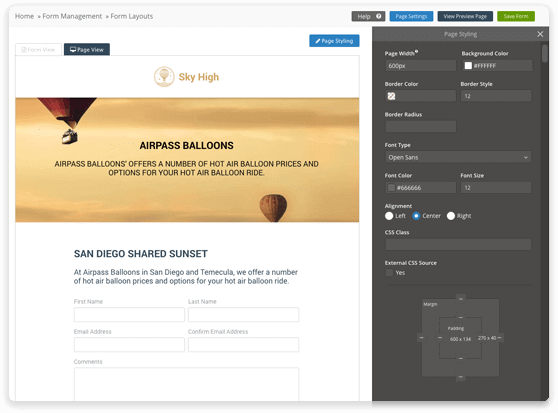 Pre-Built Lead Forms
No coding or design experience? That's okay. We have hundreds of pre-built forms and designs for simple lead capture without the need for any technical skills. Simply choose from one of our pre-made designs and you're ready to start building your form with over 30 different field option types.
Start My Free Trial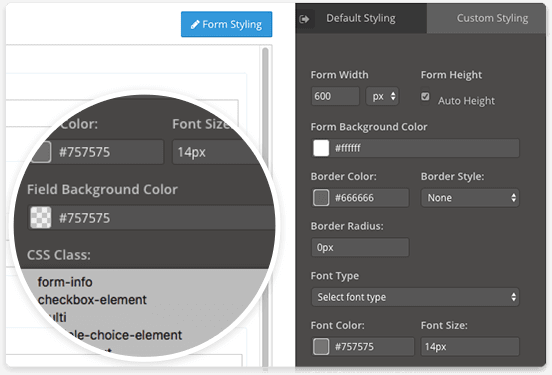 Ability to Customize Lead Forms
While we have hundreds of pre-built designs that you can choose from, our form builder also allows you to use CSS to customize your forms to match your website and company branding. With over 30 field types to choose from and the ability to customize the colors and design, the only limitation to creation is your imagination.
Start My Free Trial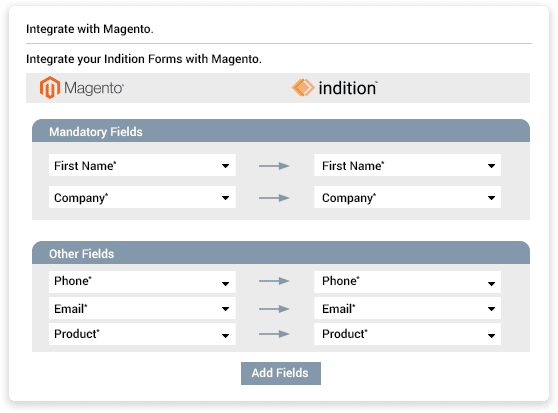 Embed Codes & CMS Integrations
Link to your form or embed your form on a lead capture landing page using your current content management system, e-commerce platform or other custom software system. Our software allows for one click access to your embed code or you can use a direct plugin to make it quick and easy to employ your new form and start collecting new leads.
Start My Free Trial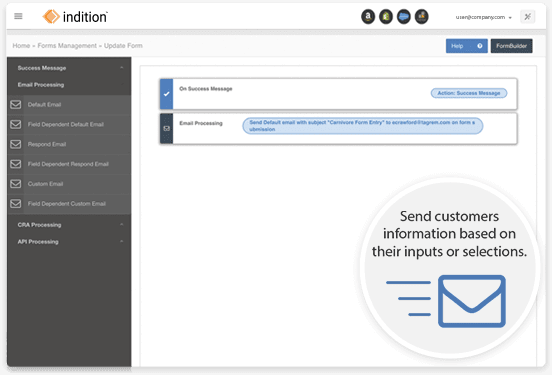 Automatic Email Notifications
You've collected a lead to send to your sales team but what can you do to keep it hot while you're still fresh in your lead's mind? Create rules to send automatic confirmation emails, follow-up with sales collateral email attachments or get even more granular by creating email triggers based on the information your lead selected in their forms. Our post processing configurations give you the email flexibility you need to truly nurture your leads.
Start My Free Trial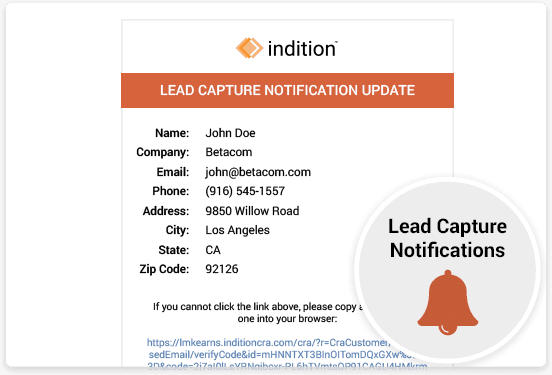 Inbound Lead Capture Notifications
When you receive a new lead, time is of the essence when it comes to contacting them. Our form builder's post processing configuration allows you to create action rules that will send email notifications to your sales, customer service or other internal teams based on the inputs that your leads submit. Get the right information to the right team at the right time so they can follow up right away and close important deals.
Start My Free Trial
DETAILED REPORTING
Export data to review your performance and see data such as the quality of submissions, unique submissions during specified time frames, view visual trends and more. Even better, you can pair this data with our landing page visitor tracking data to see if your page visits are converting into lead form submissions.
Start My Free Trial
Lead Segmentation
The best sales and marketing teams knows that not all leads are created equal and we believe that as well. That's why our lead gathering tools give you the ability to segment your leads based on specified criteria including form inputs so you can ensure you're sending leads the right information at the right time, when it matters the most.
Custom Page URLs & Domain Names
All of our forms come with a free subdomain that will look like this: yourname.indition.com. Do you have a custom URL or domain name you want to use to match your business name and website? Not a problem, we can do that, too!
Start My Free Trial
Search Engine Optimized Pages
As marketers we understand the importance of having an SEO friendly lead capture page so we developed our lead forms and landing pages to be SEO optimized. Don't want your landing pages indexed? That's okay, we can make them hidden as well.
Start My Free Trial
Contact Creation & Tracking
Collecting leads is important but it's only one part of the lead management puzzle. Our form builder tool uses field mapping to automatically create a new contact record when your lead submits their information along with an email address.
Start My Free Trial
File Upload Capabilities
Sometimes you need to have the ability to allow your leads and customers to send you documents when submitting a form, especially if you work in industries such as staffing. We've got you covered there, too. Our form builder allows the ability to create a field for easy file uploads.
SSL Enabled & Mobile Optimized
Our form builder has the highest level of security so you can feel confident knowing your customer's data is safe and secure. All of our lead form designs are also optimized to be mobile & tablet friendly so they work on all screen sizes.
Start My Free Trial
Flexible Form Field Options
With over 30 different field types to choose from including single or multiple choice fields, true or false questions, numeric and currency fields, free text fields and even file upload fields, our form builder allows you the flexibility to build almost any type of lead form you can imagine.
Start My Free Trial
PERFECT FOR INDUSTIRES & BUSINESSES INCLUDING
Lead Generation for Realtors
Insurance Agencies
Personal Trainer Services
Marketing Agencies
Car Dealerships
Staffing Agencies
Software Companies
Dog Walking Services
Law Offices
Daycare Centers
Landscaping Services
Construction Companies
Church Organizations
Healthcare Providers
Day Spa Services
Accounting Agencies
Indition Desktop & Mobile Forms Feature List
Powerful mobile forms for offline use at
affordable prices,

available instantly.
| | Bronze | Silver | Gold | Platinum |
| --- | --- | --- | --- | --- |
| Monthly Price | FREE | $15 | $35 | $85 |
| Number of Forms | 5 | 50 | Unlimited | Unlimited |
| Submissions Per Month | 50 | 1,000 | 10,000 | 100,000 |
| Pre-Built Forms | | | | |
| Custom Forms | | | | |
| Over 25 Field Types Available | | | | |
| Custom Domain Names | | | | |
| Responder Emails | | | | |
| Responder Email Attachments | | | | |
| Email Notifications | | | | |
| Conditional Notifications | | | | |
| API Post Processing Options | | | | |
| Multiple File Uploads per Form | | | | |
| Database Lookup Fields | | | | |
| API Lookup Fields | | | | |
| Instagram™ Widget | | | | |
| Facebook™ Widget | | | | |
| Twitter™ Widget | | | | |
| Pinterest™ Widget | | | | |
| Google Analytics Support | | | | |
| Search Engine Friendly | | | | |
| Responsive Forms | | | | |
| Field Validation & Input Masks | | | | |
| Field Mapping to Contact Record | | | | |
| Personalized Email Responders | | | | |
| Spam Control | | | | |
| Form Categorization | | | | |
| Auto Generated Embed Code | | | | |
| Drag & Drop Form Designer | | | | |
| Contact Segmentation | | | | |
| Unlimited Contact Lists | | | | |
| Unlimited Users | | | | |
| User Roles | | | | |
| Online Videos & Help | | | | |
| Asset Management Repository | | | | |
| Contact Creation | | | | |
| Exportable Submission Lists | | | | |
| Custom CSS Ability | | | | |
| Pre-Built Form Designs | | | | |
| Multiple Form Designs per Form | | | | |
| Embedding form on Page Templates | | | | |
| Custom Page URLs | | | | |
| Detailed Reporting | | | | |
| Web Page Visitor Tracking | | | | |
| Form Duplication | | | | |
| Form Design Duplication | | | | |
| Custom Integrations | | | | |
| Support | Knowledge Base | Email | Email/Phone | Dedicated Email/Phone |