BRINGING YOUR FAVORITE FORM BUILDER TO A MOBILE APP
If you need an online form builder tool that allows you the ability to create online web forms for your website along with the ability for collecting forms on your iPhone or iPad, you've come to the right place! Our mobile forms app allows you to build forms on your desktop, then download them to use on your mobile device without the need for internet connection.

Our mobile forms are now available in the Apple App Store! See how it works.
Sign Up!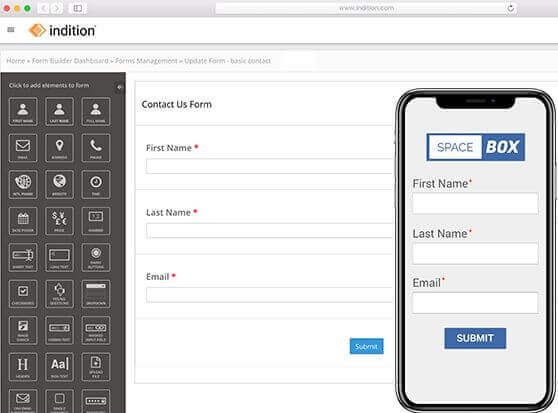 Create Online & Mobile Forms as Easy as 1, 2, 3!
Stop struggling to build complicated forms that require coding and design experience. Indition has taken a complicated task and made it much easier. As long as you have an idea, Indition has an easy solution. Our online forms tool comes with an array of pre-built forms, contests & surveys for you to choose from for use on both desktop and mobile or you can choose to create your own. Want to get technical or artistic? We also allow you the ability to configure your form fields, create different rules associated with form submissions and apply custom CSS classes to all form elements. The flexibility you need without the technical requirements.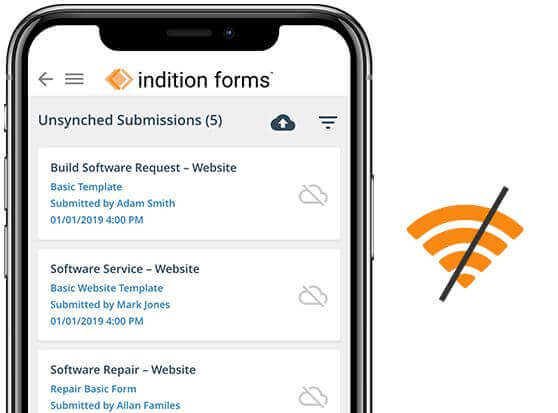 Offline Mobile Forms Data Collection
Indition's mobile forms app allows you to collect form submission data, even while offline. Preparing to attend a trade show, conference or other event where you need to utilize your forms but don't have access to any WiFi? Not a problem! Our iOS app allows you to use our iPhone and iPad form app while offline. Simply connect to the internet, select the form you've previously created that you'd like to use then download your form to the app. Once the form is downloaded and available, you can start collecting submissions with or without internet access.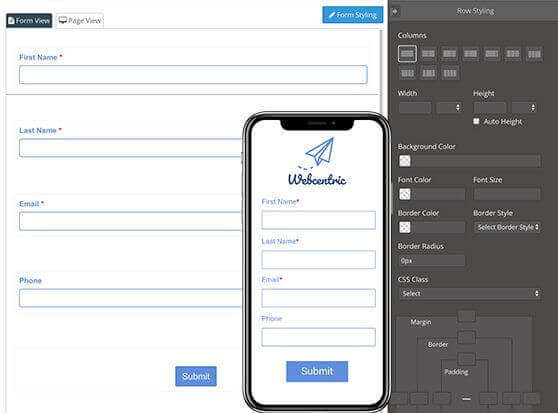 Build Form Designs on Desktop
Login to your Forms, Contests & Surveys desktop account to create new mobile forms and designs. As you begin building your new mobile form, our tool will indicate which fields are mobile friendly. Finished building? Great! You may now login to your app, select your desired form and download it directly onto your iPhone or iPad app. Once the form is downloaded, you can begin to collect submissions while offline.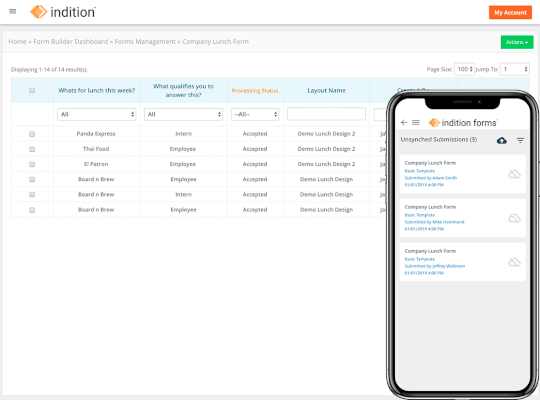 Mobile Form Submissions Autosync to Desktop
If you're collecting form submissions while offline, your submissions will automatically sync to your desktop account once you've connected to the internet again without the need to manually push the data. Do you have post processing steps added to your form? Not a problem. Once your submissions autosync, your previously set up emails will also be automatically sent.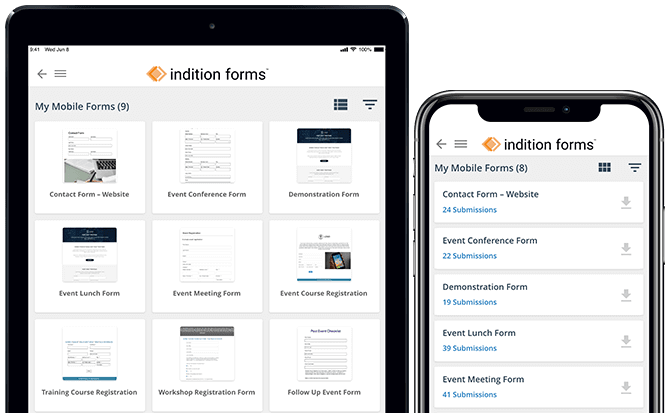 "My Forms" List of Mobile Ready Forms
Once you have created your desired mobile friendly forms via your desktop account, simply login to your mobile app, choose which forms you'd like to use via mobile, select the option to download and your forms will be ready to use on your Apple device, whether online or off.
View Synced & Unsynced Submissions
Our mobile app allows you to view submissions that have already synced to your desktop as well as forms that have yet to be synced to your desktop. View individual submission information if collected on current device.
View Individual Submission Info
Do you need to be able to sort form submissions based on the user/device that collected them? View form submissions via your desktop account, broken down by each user account.
INDITION MOBILE FORMS APP FAQs
Can I build new mobile forms right within the app?
Unfortunately our app does not allow the ability for new mobile form creation with the app itself. You need to create a mobile friendly form on your desktop, then download the form for use via the app.

Can I create one form that can be used on both desktop and mobile?
Our Forms, Contests & Survey tool allows you to create one form for use on both desktop and mobile versions, as long as the form you build contains only "mobile friendly" form fields.

Do I need to be able to code in order to create a form?
Absolutely not! Our online form creator does not require any coding whatsoever. To build the perfect form, contest or survey simply select your form fields, apply your desired design and you're done! Have experience coding and want to get more creative? We allow that, too.

Do I need to have my own website in order to create an online form?
Nope! If you don't have your own website, not to fear. We'll provide you with a free page and URL for you to use.

Is your mobile forms application available for Android or Microsoft products?
Unfortunately our mobile app is only currently available for Apple products including iPhone and iPad.
Tradeshows
Conferences
Market Research Surveys
Patient Satisfaction Surveys
Event Registration
In-Store Contests
Post Event Surveys
Instructor Feedback Forms
Networking Events
Sign Up Forms
Class Check In
Petition Forms
Subscription Forms
Interest Forms
Join Email List
Request Forms
Indition Mobile Forms Features List
Powerful mobile forms for offline use at
affordable prices

, available instantly.
Unlock Mobile Forms Features
Extend your Platinum plan to have Mobile Forms

Unlock ability to make mobile compatible forms
Create mobile only users using the Mobile Forms User role

Control which users can access mobile app vs. desktop app
Create Forms In Desktop App
Build custom forms using the form builder

Easy indication of mobile compatible form fields

Configure the actions after submission for the form

Create multiple custom designs for each form
Specify which form designs are mobile compatible

Auto-share mobile compatible designs to mobile app

The design you build is reflected in mobile app
Download App and Access Forms
Indition Forms mobile app available for free download on iOS

See a list of all mobile compatible forms in your account

Choose to download forms and designs for offline use
Access My Forms list of already downloaded form designs

View and access recently used forms from the dashboard
Take and View Submissions from the App
Take submissions from your app on or offline

Capture device and user information for each submission

Allow users to upload and take images to submit

Take written signatures in your mobile form
Take continuous submissions without having to reload the form

View a list of submissions taken from the device

See the sync status of submissions based on internet connectivity
Sync Submissions and Post Submission Actions
Automatic syncing of data from mobile app to desktop account

Submissions taken offline will sync upon first connection to internet

Post submissions actions such as email notifications sent upon sync
See mobile submissions in desktop submission reporting

Distinguish mobile submissions from desktop submissions for same form
Indition Desktop & Mobile Forms Feature List
Powerful form builder for online and offline use at
affordable prices,

available instantly.
Free
Bronze
Silver
Gold
Platinum
Mobile App
Monthly Price
FREE
$5
$15
$35
$85
$185
Annual Price Option (1 Month Free)
FREE
$55
$165
$385
$935
$2,035
Number of Forms
5
5
50
Unlimited
Unlimited
Unlimited
Submissions Per Month
50
50
1,000
10,000
100,000
100,000

Form Features
125 Pre-Built Forms
Custom Forms
Unlimited Form Fields
Over 30 Field Types
Drag & Drop Field Ordering
Embed Code to Add to Website
Form Categorization
Preview Before Submission
Unique Constraints on Form Fields
Custom User Help Per Field
Custom Placeholders Per Field
Sub Labels for Fields*
Field Default Values*
Displayed vs. Stored Values
E-Signature Field
reCaptcha/ SPAM Protection
Multi-Selection Fields
Date & Time fields for Scheduling
Form Duplication
Field Validation
Duplicate Submission Guard
International Phone Numbers & Postal Codes
Save Form as Draft
Automatic Email Confirmation
Custom Masked Input Fields
Hidden Fields
Form Field Duplication
Text & Images in Forms
Payments with Stripe
File Uploads (multi-file upload)
Conditional fields
Custom Page URLs
Stop Point / Multi-Part Forms
Database Lookup Fields
Field API Validation
Form API Validation
Form Data API Lookups
Mobile Forms iPhone & iPad App

Design Features
Free
Bronze
Silver
Gold
Platinum
Mobile App
Indition Branding
Pre-built Page & Form Designs
Single Page Form Designs
Multi-Step Form Designs
Responsive Forms
Stop Point, Multi-Part Forms
Multiple Designs Per Form
Drag & Drop Designer
Track Submission by Design
Include/Exclude Optional Fields
Design Control at Element Level
Customize Fonts, Colors, Backgrounds & Borders
Custom CSS
Themes & Form Designs
Brandable Pages with Logos
Submit Button Design Control
Form Design Duplication
Mobile Forms iPhone & iPad App
Easily brand your form with your logo
From View
Page View
Custom Page URLs
Search Engine Indexing Control
Print Form Designs
Custom Domain Names
Google Analytics Support
Google Analytics Event Tracking

Post Submission Actions
Free
Bronze
Silver
Gold
Platinum
Mobile App
Multiple Actions per Submission
Custom Thank You Message in Place or Modal
Conditional Thank You Messages
Stop Point Thank You Messages
Post Submit Redirects
Conditional Redirects
Stop Point Redirects
Basic Email Notifications
Custom Email Notifications
Responder Email Notifications
Multiple Recipient Email Notifications
Conditional Email Notifications
Stop Point Email Notifications
Stop Point Mobile App Push Notifications
Indition CRM API Posts
Conditional Indition CRM API Posts
Salesforce API Connections
Conditional Salesforce API Connections
URL API Posts
Conditional URL API Posts
Custom API Connections
Conditional Custom API Connections
Generation of PDF of Submission
Generation of XLSX of Submission
Sending Calendar Invites based on date/time fields

Reporting
Free
Bronze
Silver
Gold
Platinum
Mobile App
Forms Dashboard
Form Submission Reports
Form Design Submission Report
Daily Form Submission Report
Field Summary Report
Export Reports To Excel & PDF
Landing Page Vistior Tracking

Additional Features
Asset Manager
Custom Integrations
Support
Knowledge Base
Knowledge Base
Email
Email/Phone
Email/Phone
Email/Phone