EASILY CREATE AN ONLINE FORM
Need to add a customizable form on your webpage, build a social media contest, or create a survey for your business fast? We can get you out of that bind! With a combination of pre-built forms, contests and surveys to choose from, Indition can help you get the job done in a matter of minutes. Just select your form, choose a design theme, and then add an optional page template and boom, you're done! Sound easy? That's because it is.
Thousands of customers have built contact forms, lead generation forms, product inquiry forms, product ordering forms, customer surveys, feedback forms and much more. Indition is the best and fastest way to build, design and deploy the forms you need.
Learn More
  OR  
Sign Up!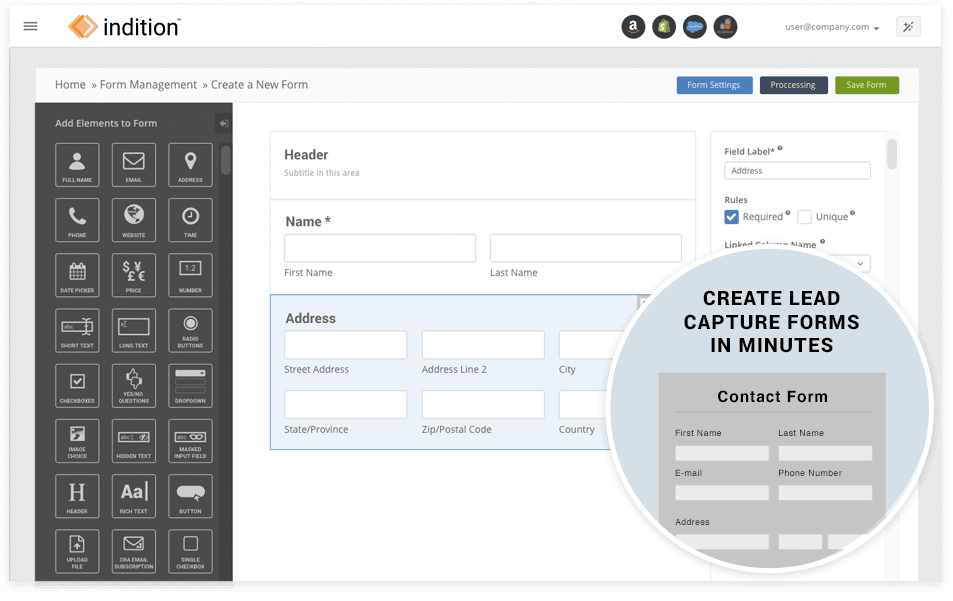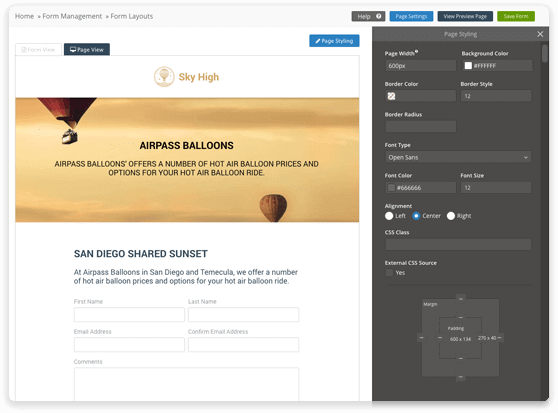 Create Online Forms as Easy as 1, 2, 3!
Stop struggling to build complicated forms that require coding and design experience. Indition has taken complicated coding and made it easy for the every day user. As long as you have an idea, Indition has an easy solution. Actually, you don't even need an idea because we have pre-built forms, contests and surveys at your disposal. If you want to get technical or artistic, we also allow you the ability to configure all of your form fields, create different rules associated with form submissions and apply custom CSS classes to all form elements. Try us out and see what you can build.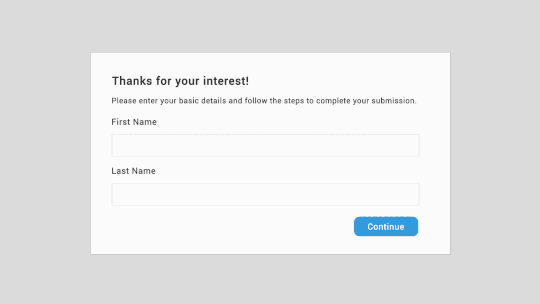 Multi-Step Forms
It's never been easier to create multi-step forms then with Indition. Gain total control over the user experience of your forms to maximize conversion and data collection. Use multi-step forms to guide your users through a series of questions, group different types of data or simply because you like the way they look and operate. Multi-step forms are included in all plans with Indition.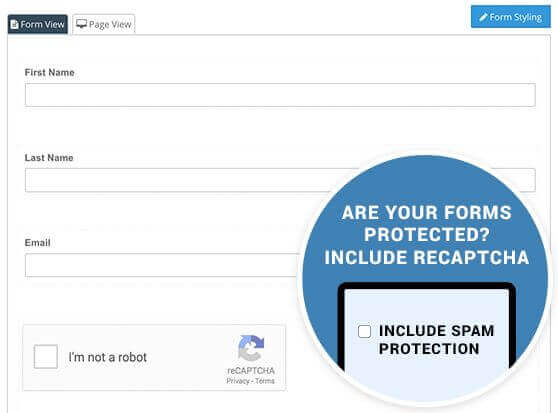 Spam Protection with reCAPTCHA
We know important it is to control spam submissions on your forms, contests & surveys which is why we allow you the option to choose to protect your forms by adding spam protection. Add reCAPTCHA to your form and stop bots from submitting automated submissions which will help to improve your overall submission quality!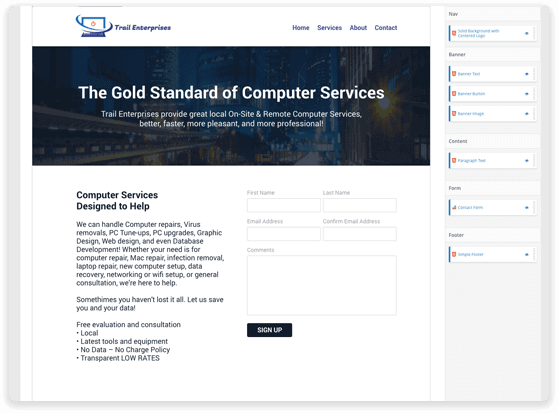 COMPLETE LANDING PAGES FOR LEAD GENERATION, CONTESTS, SURVEYS & MORE
GET SSL enabled web pages that you can use for your lead generation forms, social media campaigns, surveys, contests and other online forms. Indition provides hundreds of pre-built page designs that don't require any coding. Already have your own design? Great! You can completely customize your page to fit your brand needs. Quick and easy with no restrictions, that's Indition!.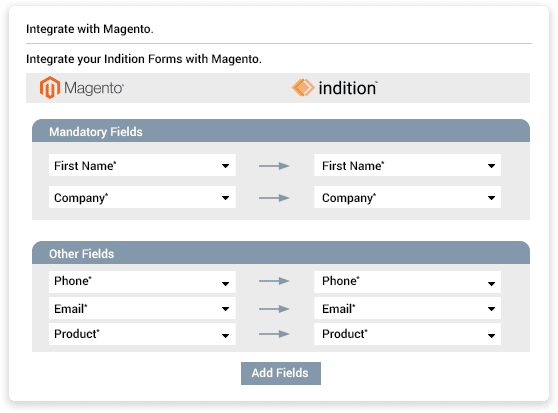 Works With The CMS You Use
Link to your form or embed your form in all of the most popular content management, e-commerce or custom software platforms out there including platforms such as WordPress, Shopify, etc. Get one click access to the embed code or use direct plug-ins make it quick and easy to deploy your new form, contest or survey and start collecting data.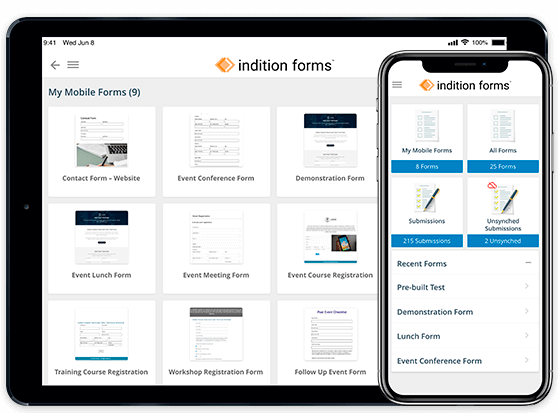 MOBILE FORMS - ONLINE AND OFFLINE
Take your forms on the go with Indition Mobile Forms. Design your forms online and download our mobile app for iPhone and iPad. Get all the power of Indition forms on your mobile device with the added benefit of offline submissions. Paper forms are a thing of the past. Replace your paper forms with Indition Forms.

Please note: Mobile Forms is an add-on to our Platinum subscription.
Learn More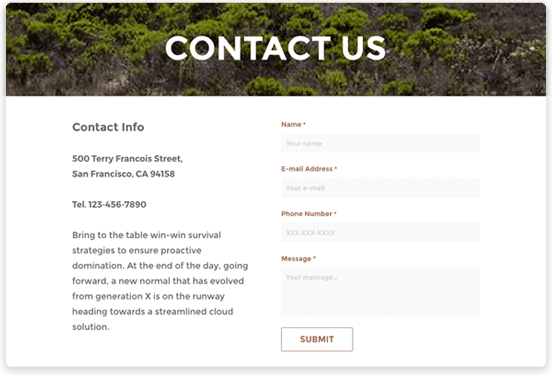 Design Flexibility and Ease-of-Use
Aren't the artistic type? Our designers have already used their creative juices to provide you with form designs so you don't need to stress about creating aesthetically pleasing forms, contests and surveys that convert. Don't see something you like? Indition gives you free reign to customize any of the pre-built designs provided, or start from a blank slate and create your own design.
Improve Conversion, Get More Responses
Generating leads? Gathering data for research? Providing a way for your customers to contact you or inquire about a product? No matter what the purpose of the form, we make it easier for your customers or contacts to complete your forms on web or mobile and gather the information you need.
Detailed Reporting
Stop waiting for reports an hour or day later. Indition reporting is real-time, up to the minute. If you prefer to get your reports in your email on a regular schedule, we have that as well. Catch on to trends using our visualization tools all included and instantly available. Your data belongs to you and is available for export at any time or on a regular schedule via Excel or PDF.
extensive Actions
What do you need to do with your data? Indition allows you to take one or more actions on the data after it was received. Whether via email, API, push notifications or all of them at the same time, Indition has you covered. Need to take different actions on your data based on a particular type of response? Indition has you covered. The data collected for you by Indition easily integrates with all your systems.
Any Form you need, you can do it
With a wide variety of form fields ready to be added to your forms and fully customizable fields available as well, you will be able to collect any type of data that you need. Single or multiple choice fields, true or false, numeric fields, currency fields, a free text field, even file uploads? You can incorporate any field type you'd commonly use. Indition has more than 25 different field types to choose from.
FREE ONLINE FORM BUILDER FAQs
Do I need to be able to code in order to create a form?
Absolutely not! Our online form maker does not require any coding whatsoever. To create the perfect form, contest or survey simply select your form fields, apply your desired design and you're done! Have experience coding and want to get more creative? We allow that, too.

Do I need to have my own website in order to create an online form?
Nope! If you don't have your own website, not to fear. We'll provide you with a free page and URL for you to use.

Which plan do I need to be able to use your mobile forms app?
Our mobile forms app is available for use with our Platinum subscription for an additional fee.
Lead Generation for Realtors
B2B Lead Generation
Market Research Surveys
Church Contact Forms
Product Inquiry Forms
Job Application Forms
Emergency Contact Forms
Instructor Feedback Forms
Online Quizzes
Student Emergency Contact Forms
B2C Lead Generation Forms
Customer Contact Forms
Social Media Contests
Patient Satisfaction Surveys
Event Registration Forms
Volunteer Feedback Forms