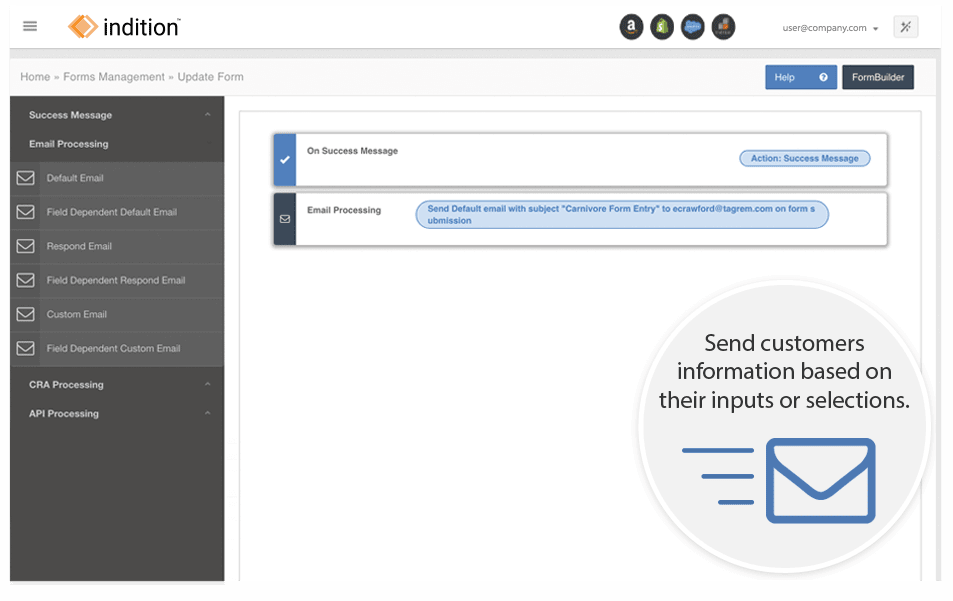 EXTENSIVE NOTIFICATION EMAIL OPTIONS
Don't forget about the behind the scenes actions that are tied to forms! What do you want to happen when a customer does fill out your form? Better yet, what do you want to happen when a customer selects or enters and specific option in your form? Have complete control over this using Indition Form Builder's Post Processing configuration. Send out email notifications to sales staff, customer service, or managers as well as sending an email to the submitter to confirm that their submission was received!

You can even get more granular with your actions to only email a particular department based on the customers selection on the question "How can we help you?". If they select "product support" you can make sure that the customer service team is notified and that the customer is sent an email with an attached support document before your team is even able to contact them!
Trigger email notifications on submissions

Send custom email content
Include personalized fields

Trigger actions based on a customer's selection
Sign up today
Indition CRA Features List
Powerful email marketing features at
affordable prices

.
| | Free | Bronze | Silver | Gold | Platinum |
| --- | --- | --- | --- | --- | --- |
| Monthly Price** | FREE | $70 | $225 | $450 | $1050 |
| Contacts | 2,000 | 10,000 | 50,000 | 100,000 | 250,000 |
| Custom Fields | | | | | |
| Prebuilt templates | | | | | |
| Custom templates | | | | | |
| Unlimited Multi-user Accounts | | | | | |
| One-Time Campaigns | | | | | |
| Automated Campaigns | | | | | |
| Campaign Delivery Types | Email Only | Email/SMS | Email/SMS/APIs | Email/SMS/APIs | Email/SMS/APIs |
| A/B Testing | | | | | |
| Landing Pages | | | | | |
| Forms | | | | | |
| User Tracking | | | | | |
| Pre-built Integrations | | | | | |
| Custom Integrations | | | | | |
| Basic Reporting | | | | | |
| Advanced Reporting | | | | | |
| Universal Triggers | | | | | |
| Blog Module | | | | | |
| Social Media Management | | | | | |
| Support | Knowledge Base | Email | Email/Phone | Dedicated Email/Phone | Dedicated Email/Phone |
| Support Services | | Design | Design/Campaign Creation | Full Account Management | Full Account Management |
*Must have a SMS account
**Price does not include delivery of SMS messages