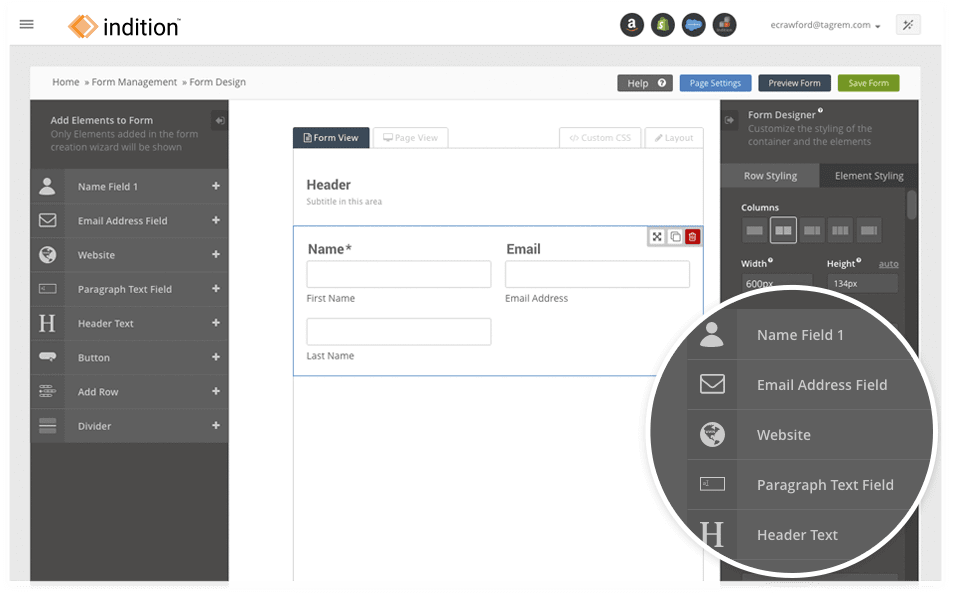 ANY FORM YOU NEED, YOU CAN DO IT
Forms able to be created in Indition Form Builder are not to be limited to simple contacts forms. You can create an assortment of different forms ranging from subscription fields consisting of a single email to full feedback forms or questionnaires that are composed of many fields. You can create any form you'd like from scratch or you can go in and start with one of our pre-built form types and customize as needed.
Contact Us Forms

Support Forms

Feedback Forms

Questionnaires
True/False

Giveaways

Contests

Surveys
Sign up today
Indition Forms, Contests & Surveys Feature List
Powerful features at
affordable prices

available instantly.
| | Bronze | Silver | Gold | Platinum |
| --- | --- | --- | --- | --- |
| Monthly Price | FREE | $15 | $35 | $85 |
| Number of Forms | 5 | 50 | Unlimited | Unlimited |
| Submissions Per Month | 50 | 1,000 | 10,000 | 100,000 |
| Pre-Built Forms | | | | |
| Custom Forms | | | | |
| Over 30 Field Types Available | | | | |
| Custom Domain Names | | | | |
| Responder Emails | | | | |
| Responder Email Attachments | | | | |
| Email Notifications | | | | |
| Conditional Notifications | | | | |
| API Post Processing Options | | | | |
| Multiple File Uploads per Form | | | | |
| Database Lookup Fields | | | | |
| API Lookup Fields | | | | |
| Instagram™ Widget | | | | |
| Facebook™ Widget | | | | |
| Twitter™ Widget | | | | |
| Pinterest™ Widget | | | | |
| Google Analytics Support | | | | |
| Search Engine Friendly | | | | |
| Responsive Forms | | | | |
| Field Validation & Input Masks | | | | |
| Field Mapping to Contact Record | | | | |
| Personalized Email Responders | | | | |
| Spam Control | | | | |
| Form Categorization | | | | |
| Auto Generated Embed Code | | | | |
| Drag & Drop Form Designer | | | | |
| Contact Segmentation | | | | |
| Unlimited Contact Lists | | | | |
| Unlimited Users | | | | |
| User Roles | | | | |
| Online Videos & Help | | | | |
| Asset Management Repository | | | | |
| Contact Creation | | | | |
| Exportable Submission Lists | | | | |
| Custom CSS Ability | | | | |
| Pre-Built Form Designs | | | | |
| Multiple Form Designs per Form | | | | |
| Embedding form on Page Templates | | | | |
| Custom Page URLs | | | | |
| Detailed Reporting | | | | |
| Web Page Visitor Tracking | | | | |
| Form Duplication | | | | |
| Form Design Duplication | | | | |
| Custom Integrations | | | | |
| Support | Knowledge Base | Email | Email/Phone | Dedicated Email/Phone |