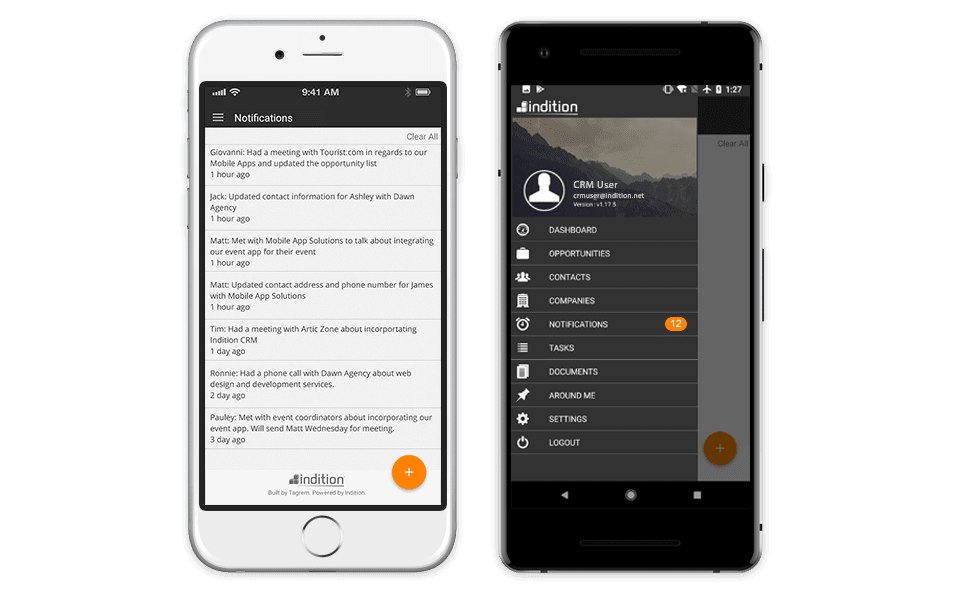 MOBILE PUSH NOTIFICATIONS
Receive notices when your assets are edited or when you are added as an owner. Make sure you receive an alert when action is required.
Sign up today
Standard Plan
Starting at
$50/month
Company tracking
Contact tracking
Lead/Opportunity Management
Task Management
Enterprise Plan
Starting at
$100/month
Single sign on Dedicated infrastructure
Custom URLs
Custom onboarding support and training
Implementation
Indition CRM Features
Spend time managing your
content the way you want

.
Standard Plan
Enterprise Plan
Company tracking

Company tracking allows you to follow any detail within a company entity, from email, activities, task, opportunity, leads, etc. Having this tool is essential when staying up to date on client relationship and the customer acquisition process.

Contact tracking

Contact tracking allows you to follow and record any details and interactions with a customer. Store email, activities, tasks, opportunity, leads, notes, etc. With the right information at your disposal you will be able to lead your contacts into become regular customers.

Lead/Opportunity Management

With lead opportunity/management use your CRM analytics to gain insight on which opportunities are more beneficial to pursue. Qualify each lead with the correct amount of data and provide your sales representatives with the information they need to close a sale.

Task Management

Use your tasks to set reminders for your customer accounts. Set up a tasks or groups of tasks for your team to accomplish while keeping an effective system for managing reoccurring and one time actions.

Custom fields

Use custom fields to add in the different fields you need to track extra information you want for your contacts, companies or opportunities. Custom fields are made to be specific to your needs, so if you want to add in extra input, dropdown, and or toggle go right ahead.

Role Management

Use role management to define the role and position of a user within your CRM. You can use this feature to give or restrict access. To create and delete tasks and data. View data and reports from your subordinates and so much more.

Reporting

Track and record all the performance metrics related to your customers as well as your team members. View reports based on any core entity and export the information you need to help with sales reporting, sales forecasting and pipeline reports.

Single sign on Dedicated infrastructure (file server, database server, scheduling server)

Use our software to manage, organize, and monitor the components of a data center. Optimize IT performance without the huge costs associated with purchasing and managing fully dedicated infrastructure.

Custom URLs

Custom URLs allow you to easily remember all the details and specifics with pages and accounts related to your CRM. Don't get another example.com/yourcompanyCRM. Get the title you want and deserve.

Custom onboarding support and training

Get the support you need with onboarding and specific training to maximize your time and efforts in Indition CRM. Make sure you are settled into the routine and organization of how our CRM works.

Implementation

Use the process of implementing and deploying to manage and track customer relations and communication. Implementation will help businesses with contact interactions, lead generation, and help in streamlining processes.

HIPAA compliance

Make sure all of your customer's data and information is confidentially maintained and secure. Rest easy knowing the handling and storage of your customer's data is safe and sound.

Integration and deployment

Seamlessly connect your CRM software with our line of other marketing and sales products that go hand in hand with CRM. Adding these integrations will increase automated actions that will expand your CRM and sales completely.

Custom modules - extended functionality, custom integrations

Use custom modules to create a separate module and track information specific to a property. You can use this for leads, contacts, companies, opportunities and more to track your sales process. Also with custom modules you can adapt our other software solutions to fit your business needs.
$
50
$50 Per Month For 2 Users
$15 Per Additional User
$
100
$100 Per Month For 5 Users
$35 Per Additional User