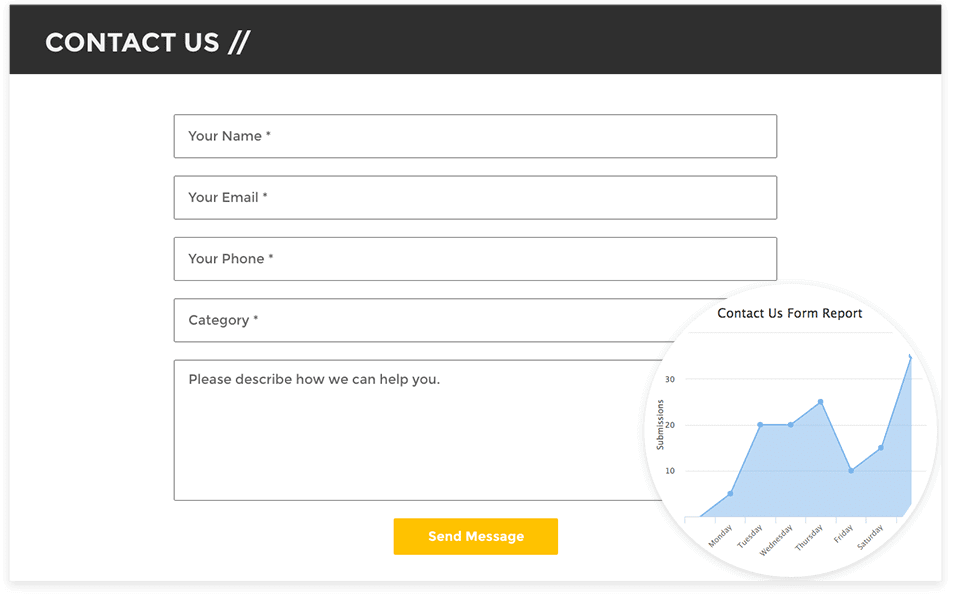 DETAILED REPORTING
Review your form performance to see the quantity of submissions and unique submissions for configurable time periods. Catch on to trends using visual graphs to learn from what leads to higher number or higher quality form submissions. Pair this with the landing page visitor tracking to see if your visits are converting to form submissions.
Sign up today
Indition Desktop & Mobile Forms Feature List
Powerful mobile forms for offline use at
affordable prices,

available instantly.
Bronze
Silver
Gold
Platinum
Monthly Price
FREE
$15
$35
$85
Number of Forms
5
50
Unlimited
Unlimited
Submissions Per Month
50
1,000
10,000
100,000

Form Features
125 Pre-Built Forms
Custom Forms
Over 30 Field Types
E-Signature Field
File Uploads (multi-file upload)
reCaptcha/ SPAM Protection
Multi-Selection Fields
Date & Time fields for Scheduling
Form Duplication
Field Validation
Calculated fields
Conditional fields
Database Lookup Fields
Field API Validation
Mobile Forms iPhone & iPad App

Design Features
Single Page Form Designs
Multi-Step Form Designs
Responsive Forms
Multiple Designs Per Form
Custom CSS
Mobile Forms iPhone & iPad App
Pre-built Page Designs
Themes and Form Designs
Easily brand your form with your logo
Customize Your Submit Button
Form Design Duplication
Custom Domain Names
Google Analytics Support

Post Submission Actions
Custom API Connections
Generation of PDF of Submission
Generation of XLSX of Submission
Export Friendly
Sending Calendar Invites based on date/time fields
Post Submit Redirects
Form Processing Conditional Logic
Custom Thank You Message
Custom Page URLs
Displayed vs Stored Values
Print form design

Additional Features
Contact Segmentation
Unlimited Contact Lists
Unlimited Users
Export reports
Embedding forms
Detailed Reporting
Web Page Visitor Tracking
Custom Integrations
Support
Knowledge Base
Email
Email/Phone
Email/Phone