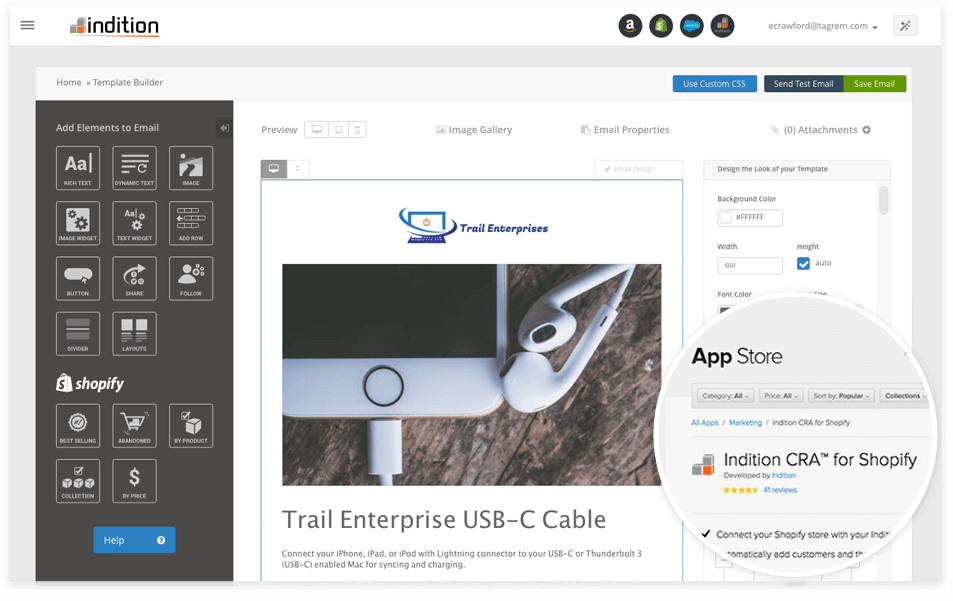 CONNECT CRA™ WITH SHOPIFY
Integrate your Shopify store to Indition CRA to manage all of your digital marketing efforts by targeting the right people, at the right time. Indition CRA allows you to use your customer data to target your customers, generate email list, build entire campaigns, and sell more of your goods which ultimately increase conversions and grows your business.
Sign Up today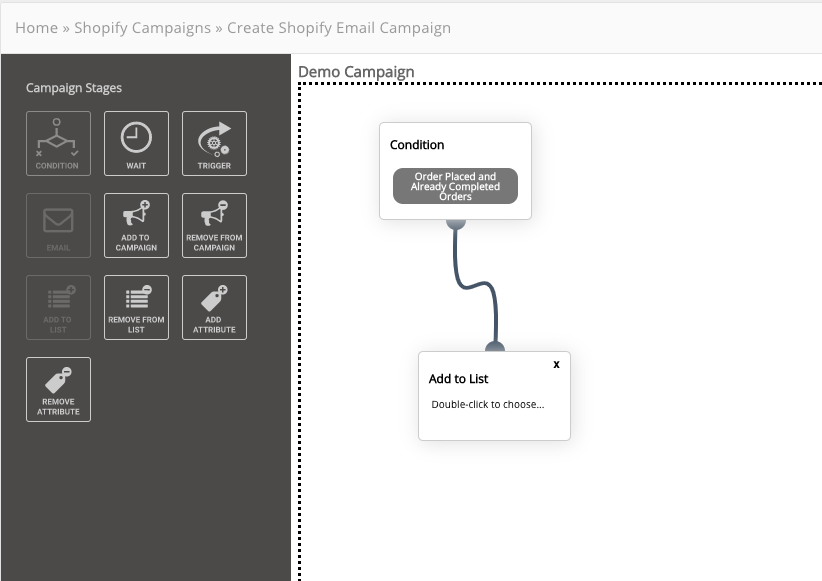 Dynamic Segmentation
Build a set of criterium for past customers and new customers alike and choose to add anybody that meets those criteria to contact list. Once in a contact list you can use that list in marketing campaigns, email blasts, or to be exported as well as just to see a snapshot of people with the profile you are interested in. The list will be dynamically maintained so that all future customers that meet your conditions will be added to the list automatically. Maybe you want to build a list of all customers that have Abandoned Cart before or maybe you want to have a list of VIP customers who have placed orders over $100. Don't waste your time manually searching for a select set of contacts and let Indition CRA intelligently curate your lists for you!
Abandoned Cart Emails
Send emails to customers that start the checkout process but never complete their purchase! The emails sent can intelligently include the products that the were in the abandoned cart with links for them to go back to your store and checkout. You can send specific emails to all abandoned carts or you can tailor the message based on what is abandoned such as having a specific email for a single category of products if they are abandoned. Increase conversions by reminding your customers of items they were interested in!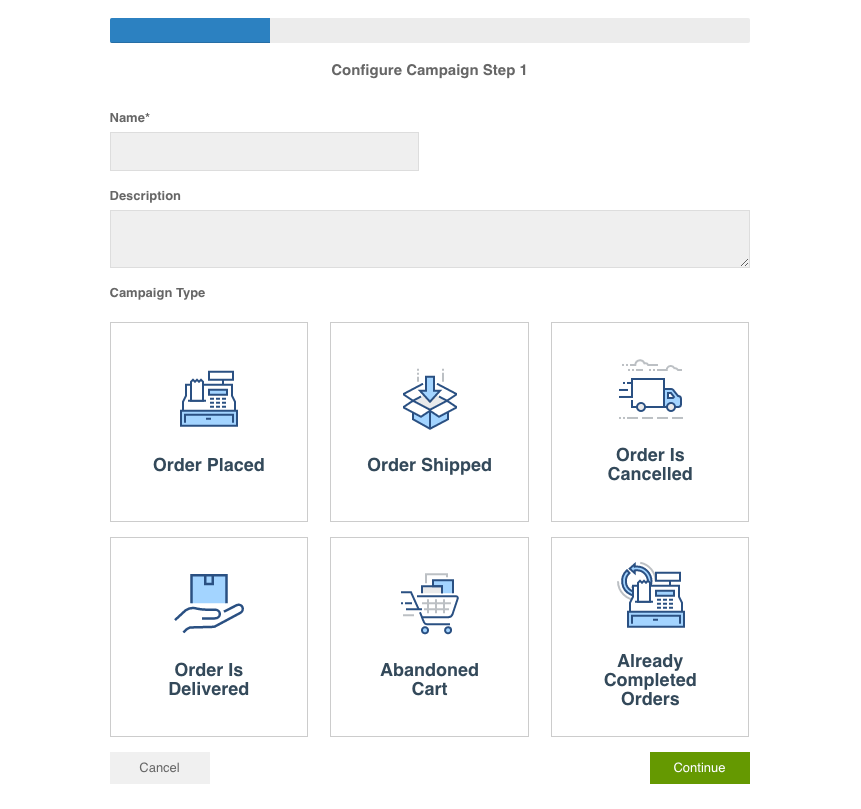 Post Purchase Campaigns
Setup campaigns that customers enter as soon as they place their order. Build out entire marketing campaigns that keep your customers engaged and allow them to interact with other products that you offer. Build emails that feature products from your store that are sent to customers based on the products in their order. With no limit on the amount of campaigns, you can build many different campaigns that are fine tuned for each scenario or just have a single post-purchase campaign that give use instructions on your product along with your best sellign items that they may like.
All CRA Features!
In addition to the Shopify specific features in Indition CRA, you will also get access to our standard functionality. This will allow you to send email blasts, maintain contacts lists, tag contacts with information, and dynamically move contacts in and out of campaigns and lists so they are always only receiving content relevant to them.
Learn More
Indition CRA Features List
Powerful email marketing features at
affordable prices

.
| | Free | Basic | Intermediate | Advanced |
| --- | --- | --- | --- | --- |
| Monthly Price** | FREE | $30 | $100 | $400 |
| Contacts | 250 | 1,000 | 5,000 | 25,000 |
| Emails | 500 | 50,000 | 250,000 | 1,250,000 |
| Custom Fields | | | | |
| Prebuilt templates | | | | |
| Custom templates | | | | |
| Unlimited Multi-user Accounts | | | | |
| One-Time Campaigns | | | | |
| Automated Campaigns | | | | |
| Campaign Delivery Types | Email Only | Email/SMS | Email/SMS/APIs | Email/SMS/APIs |
| A/B Testing | | | | |
| Landing Pages | | | | |
| Forms | | | | |
| User Tracking | | | | |
| Pre-built Integrations | | | | |
| Custom Integrations | | | | |
| Basic Reporting | | | | |
| Advanced Reporting | | | | |
| Universal Triggers | | | | |
| Blog Module | | | | |
| Social Media Management | | | | |
| Support | Knowledge Base | Email | Email/Phone | Dedicated Email/Phone |
| Support Services | | Design | Design/Campaign Creation | Full Account Management |
*Must have a SMS account
**Price does not include delivery of SMS messages