What is Lead Capture?
Lead capturing is a method of driving potential or returning customers to your webpages and then providing enough perceived value to get the visitor to provide their contact information. There are various methods of enticing your site visitors to provide their information. The most basic example is to provide relevant material to what the visitor is looking for and capturing their attention enough to have them either reach out directly to you or to fill out a form to start the converstaion with you. Another method, is to offer an exchange for a free download or free access to something they want if they provide their name and email address. An example of this is whitepaper downloads or free tickets. A third method is to provide entry into a giveaway or contest where the visitor needs to provide their contact information in order to enter.
Our method for lead capture on this page is to provide useful content describing our how our software can help you with lead capture as well as giving a free trial to use the software being described further down!
Who Are Your Leads?
The visitors to your website that eventually provide you with their contact information are your leads. These are all people that in one way or another landed on your site most likely because it was relevant to what they are looking for. In the end, they provided you with their contact information which acts as an invitation to reach out to them about who you are, what you do, and why they should care. Not all leads are created equal though. You want to make sure you are only capturing quality leads. To ensure higher quality leads you'll want to take measures such as including Captcha spam protecion in your lead capture form and to not hand out free downloads or contest entry unless except for in emails. Taking steps like these make sure that people aren't rewarded unless they provide you valid contact information. With Indition Forms, we can help make sure that you reduce spam leads and also can help setup forms where on submission you email your new lead with an attachment or link to the file they submitted their information for.
What to Do With Your Captured Leads
Once you have a new lead, you need to have a plan to convert that lead to being a customer! You don't want to have contact information for potential customers just to have a list and do nothing with it. Within Indition Forms, we can help to make sure you send email notifications to your new leads to acknowledge that you have received their information. You can even send conditional emails to them if they indicated within your lead capturing form that they are interested in a specific product or service you offer. Also, we can help make sure to notify your sales staff or the correct department about a new lead that has come in and even send a special notification if the lead meets your qualifications for being a high value lead. On top of that, our custom API connections allow for you to have leads/contacts created in your CRM account on submission of yoru lead form.
All submissions of your lead capture form will always be stored in your account to be viewed and/or exported whenever you would like.You can export these submissions and add them to your marketing system to send emails or you can give them to your sales staff to follow up with the new leads. Either way, Indition Forms can help you automate the first interaction with your new leads!
Capture More Quality Leads with Indition Forms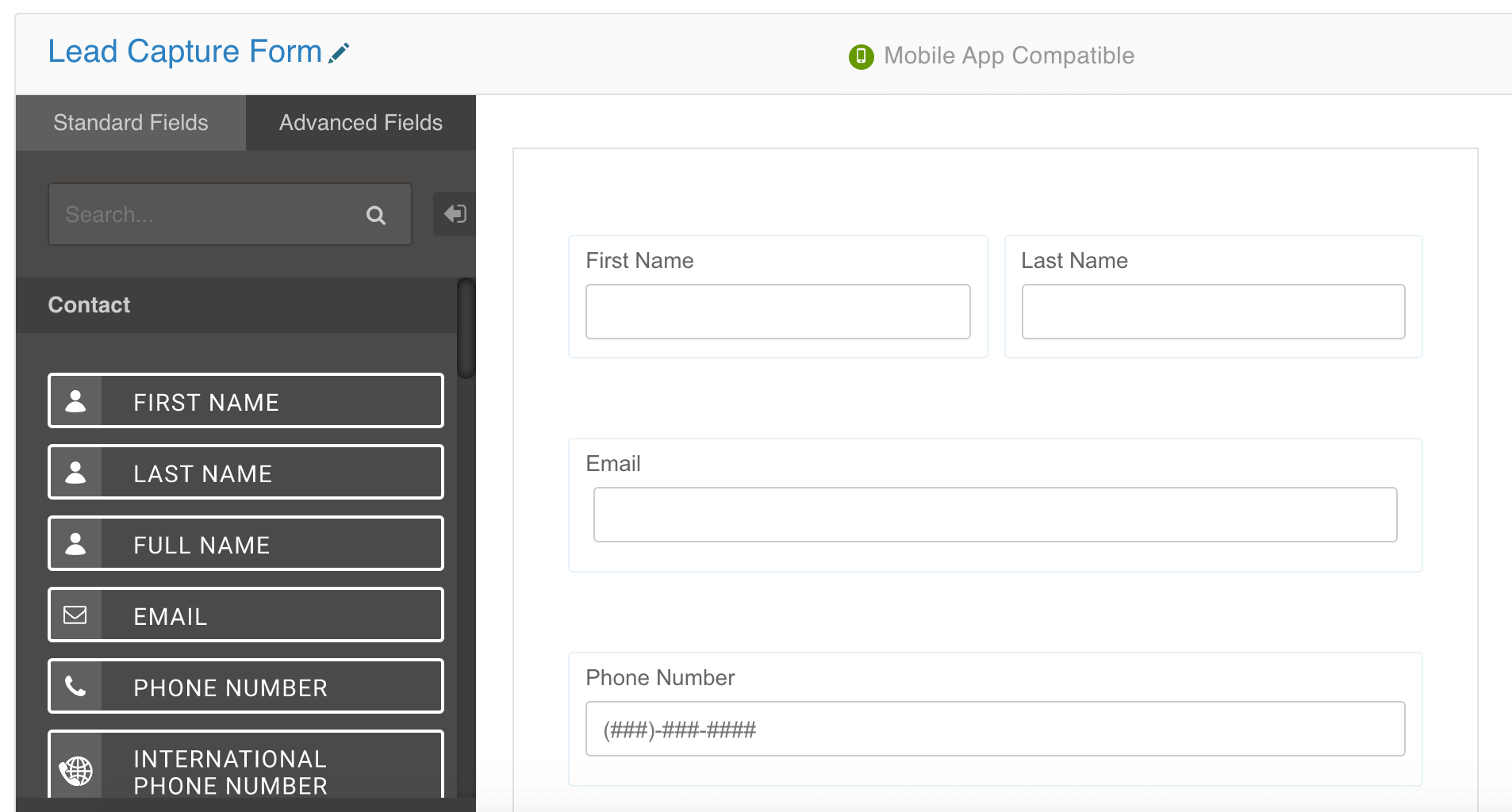 Lead Capture Forms
Build custom lead capture forms that are available on our hosted webpages or can be embedded onto your own site or landing pages. Capture valuable information about your leads and get them in front of your sales team immediately. Manage the fields in your form so you have the critical information you need about your leads.
Learn More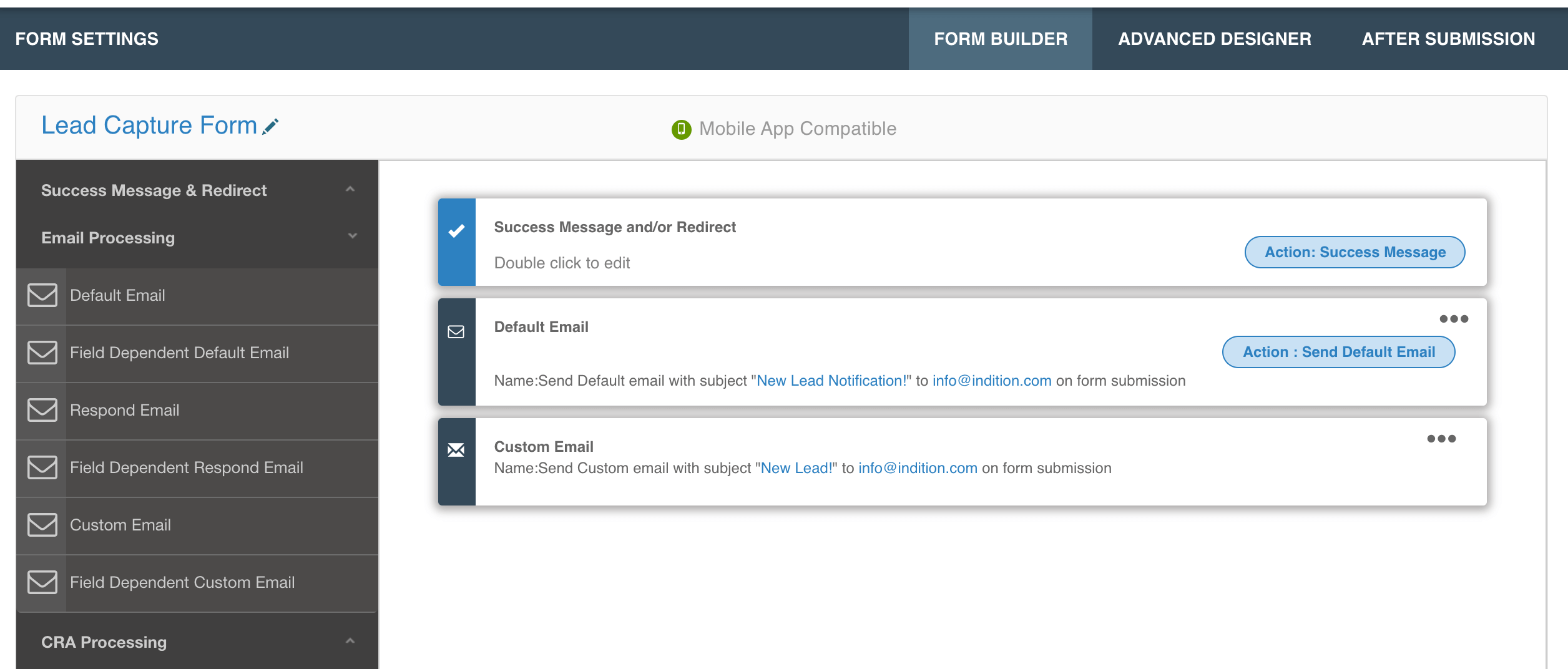 Lead Routing
Manage the actions and notifications that occur when your lead forms are filled out to route them to the correct people. Send emails to sales staff on submission or have the lead added to your CRM. You can even set up conditional actions so that the correct sales staff is notified depending on the lead's entries and selections matching your criteria in your form.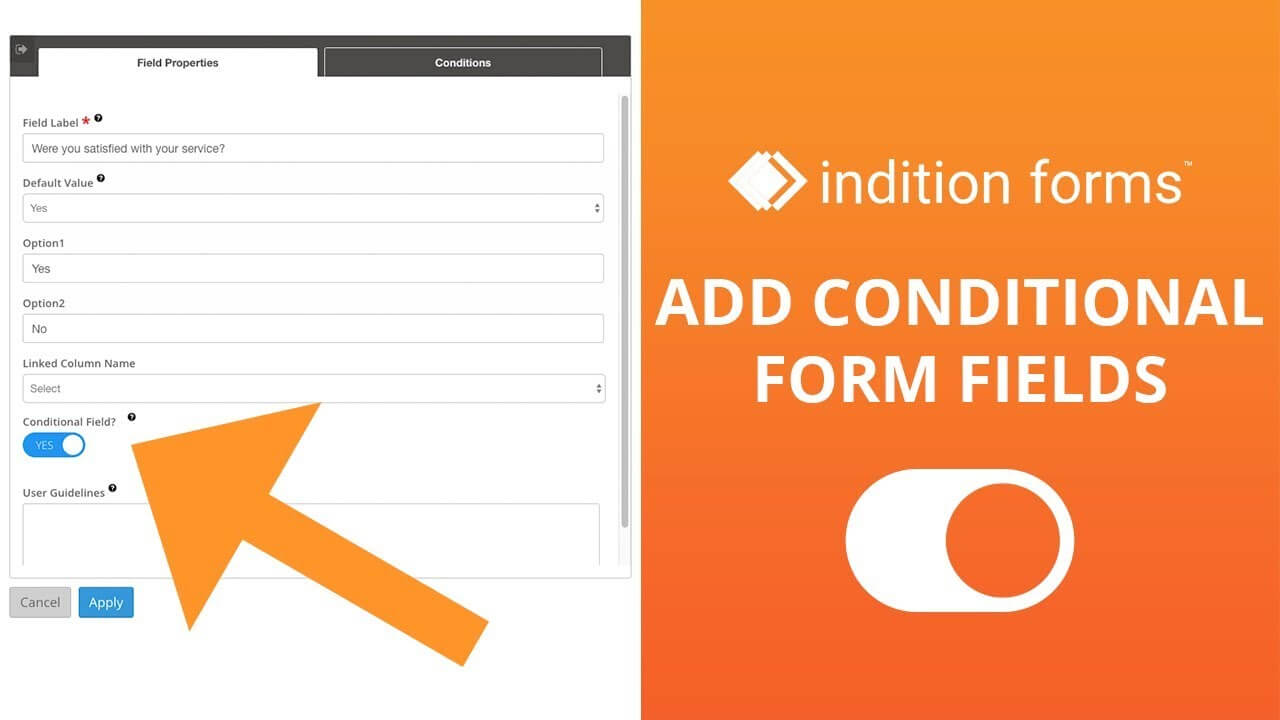 Custom Fields & Conditional Fields
With complete control of the fields in your lead capture forms, you will be able to decide the information you wish to record about your leads and what isn't necessary. You can also setup conditional fields that will only be exposed if the conditions you setup are met. This way you only capture information about the leads that you need instead of requiring the leads to fill out all fields that may be unnecessary.
Learn More About Conditional Fields
Capture Leads on your Phone!
Capture leads on the go by using the Indition Forms mobile app to quickly take down lead information. Capture leads offline without internet access and then the next time your device gets an internet connection the new leads will be synched to your desktop account and will be routed and notifications sent as you have configured. The Indition Forms mobile app is perfect for capturing lead info at trade shows, conferences, or any other events where you aren't by your computer. Administrators will have full access of which lead forms your staff can access through their mobile device so you only have sales staff filling out the correct lead capture forms!
Learn About Indition Forms Mobile App