Indition iOS Forms Mobile App
Monday, April 1, 2019
Our latest product comes in the form of an iOS mobile application to complement our Indition Forms, Contests & Surveys tool.
If you attend conferences and tradeshows where you solicit lead or contact info, if you run a business where you need to collect data in the field or you manage any other type of operation where you need to be able to obtain data on the go, our iPhone and iPad forms app is great for your business.
Our mobile forms app allows you to build forms on our desktop tool, then download them to use on your mobile device, without the need for internet connection. No coding, design or IT experience required and we have hundreds of prebuilt forms and designs for you to choose from. Do you prefer to build your own? Not a problem, we allow for that, too.
Learn More About Indition Offline Mobile Forms
---
Indition Forms, Contests & Surveys - Multi-Step Form Designs
Monday, February 18, 2019
Our new feature finds you being able to create multi-step form designs to display your forms across a series of steps in order to break your longer forms down into more acceptable and less intimidating pieces. You will find many benefits that come with multi-step form designs including increased conversions, better end user understanding, and increased user satisfaction. Beyond the experience of the form itself, multi-step forms will take up less space on the webpage they are embedded on which allows for more flexibility and a better look and feel to the page the form resides on.
Sometimes there is no way to avoid forms that have a large amount of data intake. Sometimes these forms seem to go on forever and you scroll and scroll and still don't see the bottom. This initial impression of the form can deter many contacts that aren't willing to take the time to fill out the entirety of the form. Now you can give your forms a pleasant first impression and let your submitters gradually provide their information in organized and manageable steps.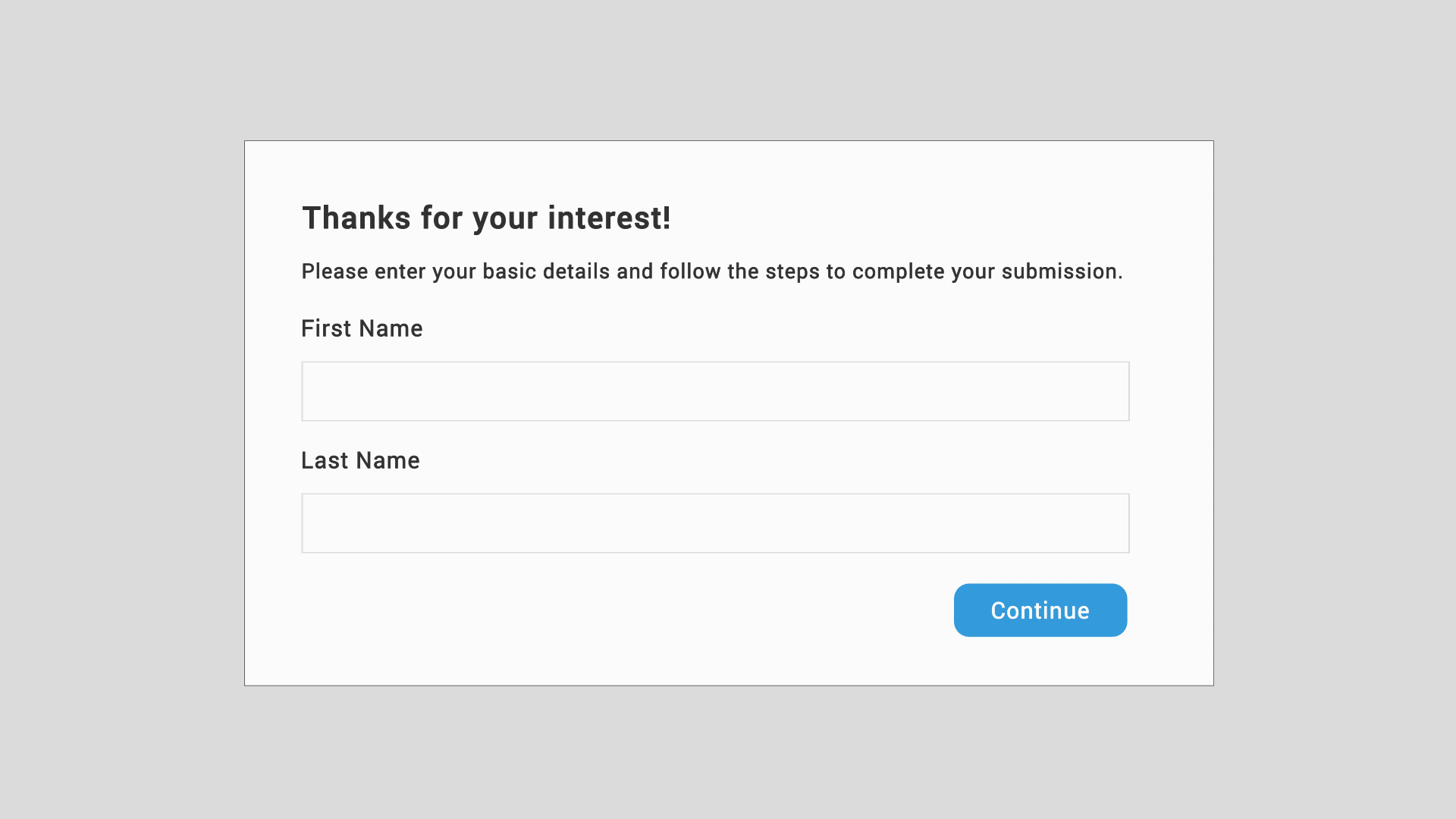 Multi-step form designs come in our version 2 release of form design structures. Now when you create a form design (a skin for your form), you will have the option to choose a single page design or a multi-step form design. If you select a multi-step form design you will see that the designer interface is slightly different to allow for management of multiple steps. You will be able to add and remove different steps as well as configure different settings within the steps such as whether you want to include a back button to the previous step, and if so what is the text that should display on that back button. You also have the option to customize the Continue button for each step and whether you want to have a step header and sub-header to provide an explanation of the fields contained within the step. Just like regular form designs, you will choose where your form fields should be placed in the design but now you can rearrange from one step to another instead of just changing the field order within a single-page.
When you are done building your multi-step form design you will be able to see the end result. At first, all you will see are the fields contained within the first step. When you're ready, you can click Continue (if field requirements are met) and then you will see the first step get replaced with the second step. This continues until the user reaches the last step of the form design where they will be able to submit the form.
With this new feature, we are hoping to improve the experience you provide to your customers and contacts and ultimately increase conversions for your forms. It's a win win for both parties! We hope you enjoy our new feature and as always, feel free to reach out for assistance in using our new feature at
Learn More About Indition Form Forms, Contests & Surveys
---
Indition Forms, Contests & Surveys - Field Summary Report
Friday, January 25, 2019
The lastest product update for our form builder software is here and it's perfect for those who are utilizing our form builder for the purpose of surveys, feedback forms, etc.
The field summary report provides a clear breakdown of how your contacts are responding to individual fields in your form or survey. You are able to run this report to see results for any dropdown, radio button, checkbox, or yes or no field types. You can run this report for individual fields or if your form has multiple fields with eligible field types then you can see a full summary of contact answers across multiple fields. You can also take advantage of multiple views to either scroll through the performance results of different fields or click an arrow to switch through the field reports.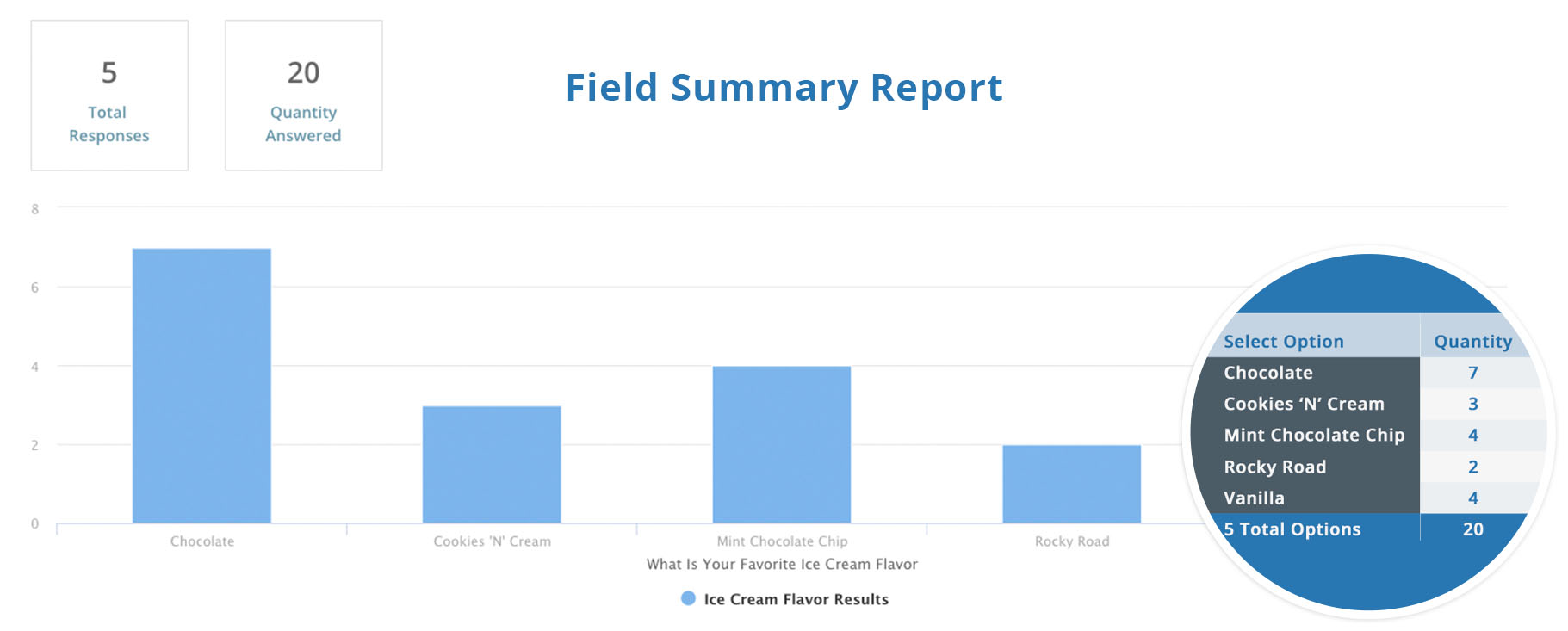 If you are running a survey with multiple choice questions, you can run this report to see the breakdown of selections per question in order to get a clear idea of what most people are answering for each question. For example, let's say you have a survey question titled "What is your favorite flavor of ice cream?" You can now get a clear breakdown of how many contacts selected chocolate as their favorite flavor and which percentage of survey takers selected chocolate compared to total submissions.
The goal of this feature is to bring your data to you in a simple fashion and we believe this accomplishes that goal!
Learn More About Indition Form Builder