Easily track all of your healthcare clients
Track the services your healthcare clients are receiving, recording all information for every service they are utilizing, prescriptions they are given and healthcare professionals they are in contact with.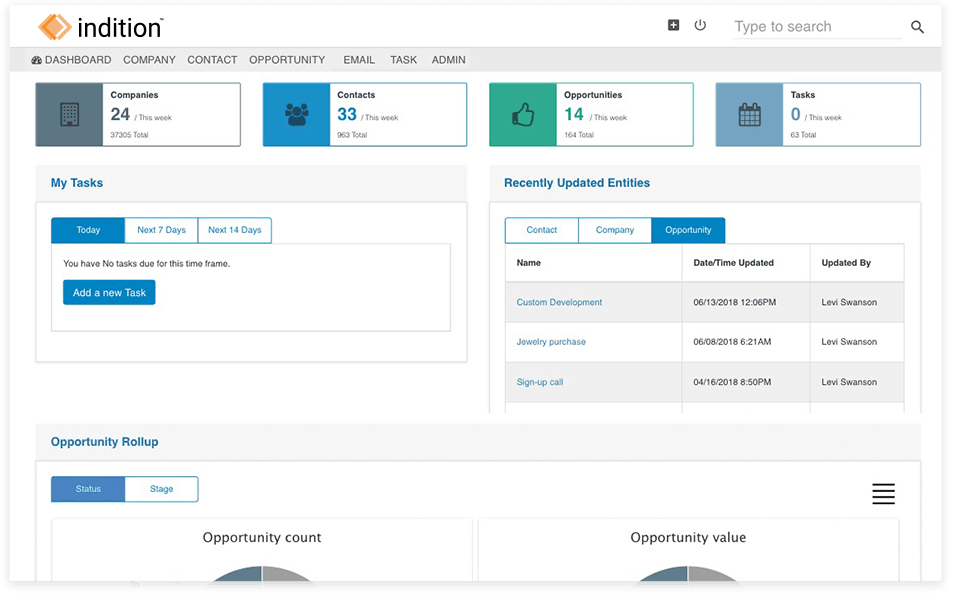 Contact and Company Management for Healthcare Professionals
Keeping an accurate database of your healthcare client's needs and the services you provide for them. Tracking their needs in real time allows you to offer your healthcare clients the best service possible. Use features like: Importing all existing contacts and companies, Activity Tracking, Document Storage, Ownership Role Restrictions and Customizable List Views.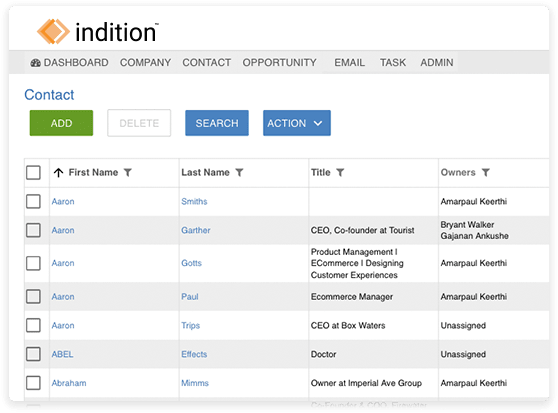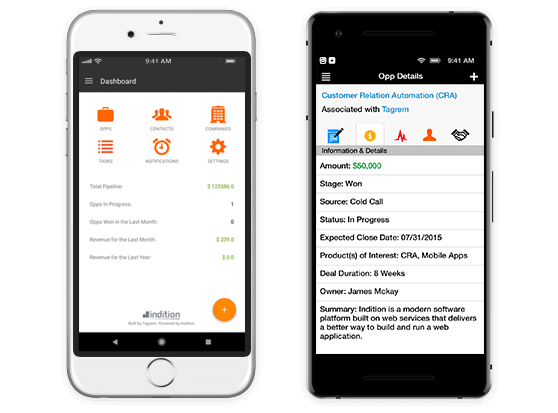 IOS & Android App for Healthcare Professionals
Healthcare professionals need to track their healthcare clients in real time 24/7. Indition Sales CRM App makes it easy to enhance patient services by keeping all the information healthcare professionals need in one place, available on their phone. When you can view your healthcare client's entire medical record at any time, you can meet your client's needs more efficiently. Indition Sales CRM allows you to store notes, log calls and emails, and view related tasks for both the healthcare organization's contacts and your personal contacts.
Easily track your existing healthcare clients.
HEALTHCARE TASK MANAGEMENT
Create and track healthcare related tasks for the entire medical care team with the comprehensive tasking system, making sure all tasks are completed and goals are archived.
EMAIL FUNCTIONALITY
Create emails that can be saved and tracked for existing healthcare contacts as well as create automated email campaigns. See how your healthcare contacts engage with your emails with our engagement tracking.
MOBILE PUSH NOTIFICATIONS FOR HEALTHCARE PROFESSIONALS
Healthcare client's health status can change very quickly and at any time. Receive notices when one of your healthcare clients is in need of assistance or you've been added to another client's care team. Make sure you receive an alert when action is required.
MOBILE SHORTCUT FEATURES
With a simple swipe, get a glance at your active clients status without even opening the app. Download all or choose individual contacts on your mobile device to import. Search for your contacts in your device's spotlight search. Add contacts without even opening the app.
Indition CRM Features
Spend time managing your
content the way you want

.
| | Bronze | Silver | Gold | Enterprise |
| --- | --- | --- | --- | --- |
| Maximum Number Users | 10 | 50 | 100 | No Minimum, No Limit |
| Monthly Price Per User | $50 | $35 | $25 | Call |
| Contact Management | | | | |
| Account Management | | | | |
| Opportunity Management | | | | |
| Initiative & Task Management | | | | |
| Customizable fields and attributes | | | | |
| Activity tracker and custom activities | | | | |
| Email tracking | | | | |
| Email template builder | | | | |
| Notifications | | | | |
| Private knowledge base | | | | |
| Ownership role restrictions | | | | |
| Available on Mobile for iOS and Android | | | | |
| Auto Sign Up | | | | |
| RESTful APIs for ease of integration | | | | |
| Import/Export data | | | | |
| Activity Reporting | | | | |
| Custom Integrations | | | | |
| Custom Module/Business Functionality | | | | |