Get the technology you need to track contacts and leads for your automotive dealership.
Follow your automotive sales pipeline through the sales cycle, from advertising to signing the sales contract, and make sure all information about the potential customer is recorded along the way. Get Activity Tracking and Reporting, Contact Tracking, Document Attachments, Reports for Each Sales Professional and more.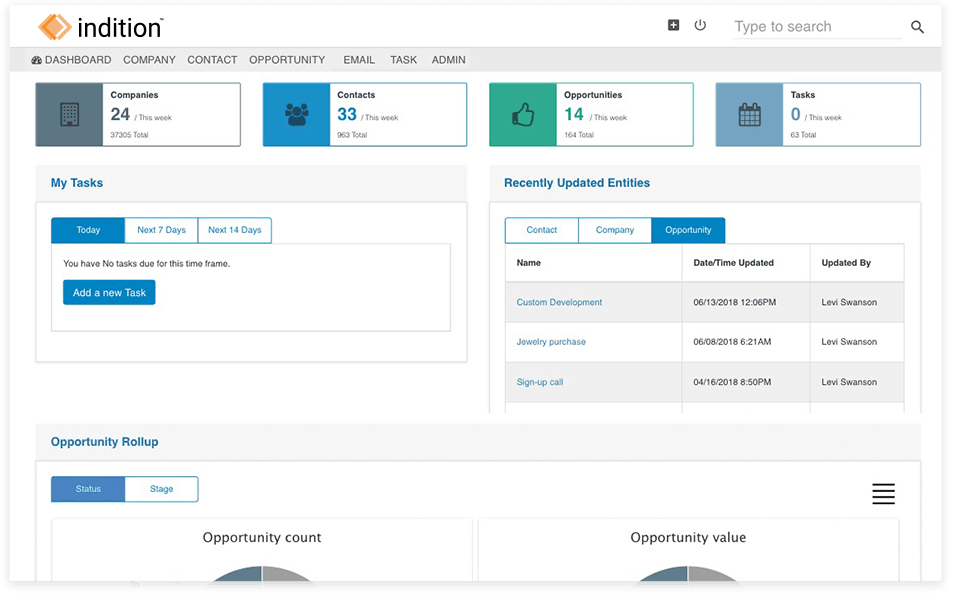 Contact and Company Management for Automotive Dealerships
Keep an accurate database of your automotive dealership's contacts and leads. These leads can be assigned to individual sales professionals or unassigned. Use features like: Importing all existing contacts, Activity Tracking, Document Storage, Ownership Role Restrictions, Send Notifications, and Customizable List Views.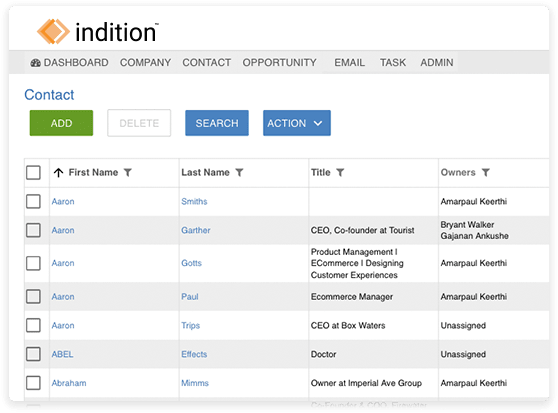 Automotive Dealership Activity Tracking
Indition lets your automotive dealership sales team work individually or as a team. View all of your, or the teams, past touch-points with a potential automotive customer before sitting down with them to close the deal. You can also track where the lead originated, which is extremely important if you advertise on different platforms and in multiple areas. Indition Sales CRM allows your automotive sales professionals to store notes, log calls and emails, and view related tasks for both the automotive dealership and personal contacts.
High quality for HR and recruiting professionals
AUTOMOTIVE TASK MANAGEMENT
Create and track tasks for yourself and the staff of your automotive dealership with the comprehensive tasking system to make sure all task are completed and goals are archived.
EMAIL FUNCTIONALITY
Create emails for the automotive dealership that can be saved and tracked to send to existing contacts, as well as create automated email campaigns. See how your automotive contacts engage with your emails with our engagement tracking.
REPORTING MODULES FOR AUTOMOTIVE DEALERSHIPS
Your daily interaction with automotive dealership customers produces a lot of data. This data can tell you what your automotive customers and leads are looking for as far as vehicle, price and service. Turning this data into actionable insights can help you anticipate the needs and wants of your leads, turning them into customers. Indition includes a completely configurable reporting system that allows you to create, schedule, and export the data as you need, when you need.
PROMOTIONS & DISCOUNTS
Automotive dealerships need to run a sale or promotion frequently. Indition promotions provides a vast array of available promotions for your automotive dealerships website, text and email programs. You can make promotions available to a specific customer, group of customers or everyone.
Indition CRM Features List
Spend time managing your
content the way you want

.
| | Bronze | Silver | Gold | Enterprise |
| --- | --- | --- | --- | --- |
| Maximum Number Users | 10 | 50 | 100 | No Minimum, No Limit |
| Monthly Price Per User | $50 | $35 | $25 | Call |
| Contact Management | | | | |
| Account Management | | | | |
| Opportunity Management | | | | |
| Initiative & Task Management | | | | |
| Customizable fields and attributes | | | | |
| Activity tracker and custom activities | | | | |
| Email tracking | | | | |
| Email template builder | | | | |
| Notifications | | | | |
| Private knowledge base | | | | |
| Ownership role restrictions | | | | |
| Available on Mobile for iOS and Android | | | | |
| Auto Sign Up | | | | |
| RESTful APIs for ease of integration | | | | |
| Import/Export data | | | | |
| Activity Reporting | | | | |
| Custom Integrations | | | | |
| Custom Module/Business Functionality | | | | |